D Block Security (PPO# 15480)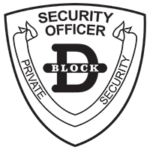 Listing Title:
D Block Security (PPO# 15480)
Description:
DBlock Security has been servicing the community in a variety of ways since 2010. DBlock is a locally owned and locally staffed private security company. We partner with members of the community both public and private and provide dependable, effective, professional security. We provide security for local businesses, restaurants, private parties, and cannabis related outfits. We strive to not make our security model fit with your needs, but we tailor and customize our services around your security needs. PPO# 15480. Member since 2021.
Send Message to listing owner